Company Profile
Founded on May 8, 2002, ZTO Express ("ZTO" or the "Company") is a leading express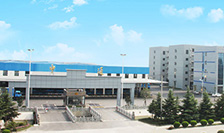 delivery company in China and one of the largest express delivery companies globally.

ZTO provides express delivery service as well as other value-added logistics services through its extensive and reliable nationwide network in China covering over 96% of China's cities and counties as of December 31, 2016. ZTO is both a key enabler and a direct beneficiary of China's fast-growing e-commerce market, and has established itself as one of the largest express delivery service providers for millions of online merchants and consumers transacting on leading Chinese e-commerce platforms, such as Alibaba and JD.com. Globally, ZTO provides delivery services in key overseas markets through its business partners as it expands coverage of international express delivery by collaborating with international industry players.

ZTO provides fast, safe and cost-effective express delivery services. ZTO is guided by its core values of "Shared Success, Trust and Accountability, Innovation and Entrepreneurship" and its corporate mission of "Bringing Happiness to More People through Our Services." The Company has been recognized with multiple awards for its services, such as "Top Ten Influential Brands of Chinese Express delivery Industry" and "Top Ten Excellent Brands to Customers' Satisfaction in Chinese Express Delivery Industry".

ZTO is committed to supporting its employees' well-being and success while creating value for our clients. All ZTOers are striving to achieve the common goal "to build a dignified and respected leading global logistics service provider".

Infrastructure Capabilities
ZTO has invested over RMB10 billion in the acquisition of land use rights for close to 500 acres across China to build high-capacity sorting hubs, and distribution and e-commerce centers. The Company continues to increase its infrastructure investment and is consistently acquiring more land use rights. These investments have not only created jobs and generated local GDP, but also promoted the sustainable and healthy development of the express delivery industry and China's economic growth overall.

ZTO continues to strengthen its technology infrastructure by investing heavily in its proprietary IT systems which are 7x24 supporting tens of millions of parcels' end-to-end operational processes on a daily basis, with automatic sorting machines in sorting hubs, GPS equipment on its fleets and handheld terminals across its network. ZTO is committed to attracting tech-savvy top talents, adopting cutting-edge digital technologies and delivering convenient online digital services to every business client and individual user.
Network Development
As of Sept. 30, 2017, ZTO had over 300,000 employees and 9,400 network partners. ZTO's delivery network spans over 28,900 pickup/delivery outlets and 79 sorting hubs that cover more than 97.69% of the cities and counties and 81.5% of the towns in China. ZTO has more than 4,410 line-haul vehicles and over 1,920 line-haul routes between sorting hubs. ZTO serves as a key enabler of e-commerce. Where there is Internet, ZTO will be there to help people build a beautiful life.
Leadership in the Industry
ZTO was proudly the first in the sector to build a line-haul network across multiple provinces, implement delivery fee sharing, optimize a network transit fee settlement system, launch a nationwide network shareholding system, and establish an association for the mutual benefit of all network partners.